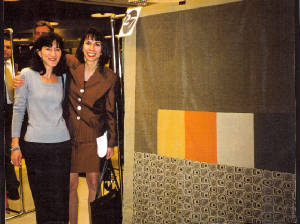 In 1998 Dorothy Cosonas, senior textile designer for Unika Vaev at the time, asked me to design a quilt for the annual Association of Contract Textiles quilt benefit auction. The following is an excerpt taken from the ICF Group's monthly newsletter.
Record Sale for UV Quilt
The 1998 Unika Vaev quilt sold for more than $2,000.00 at the third annual ACT Quilt Benefit Auction in New York. A beaming Dorothy Cosonas played the part of proud mama, cheering on the bidding frenzy. The quilt was designed by Nancy Gesimondo, a senior designer at the firm of Mancini Duffy. Ms. Gesimondo's design was an elegant understatement that perfectly displayed the sophisticated nature of Unika Vaev's style.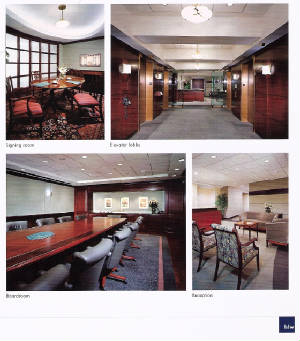 This is Prudential Securities 700,00 square foot operations facility at One New York Plaza. I worked on the design of this project when I was with HLW in 1995. This was one of the largest corporate interiors projects in New York City at the time. In addition to selecting all of the architectural finishes I furnished a hierarchy of over sixty executive offices, boardroom and conference rooms. The sheer size of this project allowed me the opportunity to develop custom carpet and fabric for the high profile areas.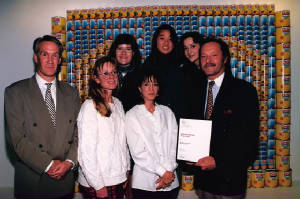 At HLW I participated in CANSTRUCTION, a competition in which New York's architectural, engineering and reprographic firms design and build whimsical structures out of canned goods that are then donated to FOOD FOR SURVIVAL, The New York City Foodbank.
I was part of the design/build team for this award winning entry, American Distress/American Hope. Our entry was a double sided curved wall with an inverted American flag (a symbol of distress) on one side and the Red Cross flag (a symbol of hope) on the other. The wall, constructed of two rows of cans, was over 8 feet high and 10 feet long, represented how the American spirit can bridge the gap of despair with hope.